[FOTOS] Fear the Walking Dead 3ª Temporada: Promocionais e bastidores do episódio 2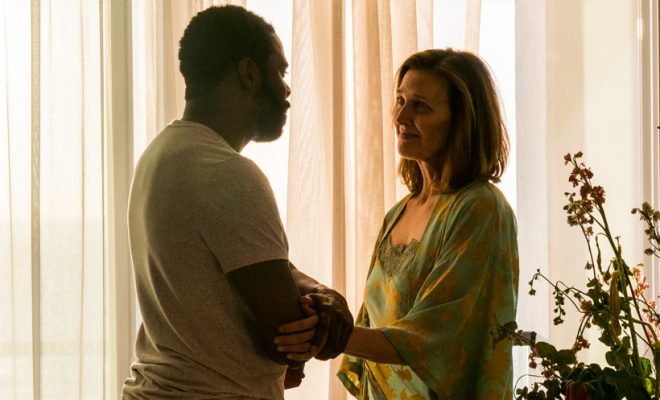 Atenção! Este conteúdo contém SPOILERS do segundo episódio, S03E02 – "The New Frontier", da terceira temporada de Fear the Walking Dead. Caso ainda não tenha assistido, não continue. Você foi avisado!
Após escaparem do complexo, que foi invadido por uma horda de infectados, e seguirem rumo ao Rancho Mandíbula Quebrada, o helicóptero que levava Travis, Alicia e Luciana é atacado e Travis acaba sendo baleado. O último dos Manawa acaba optando por pular do helicóptero, relevando para a filha de Madison que ele havia sido mordido e já estava com os dias contados. Enquanto isso, já no Rancho, Madison e Nick conhecem o líder da família Otto e começam a traçar um plano caso algo dê errado durante a estadia deles no local. Outro destaque do episódio foi Strand, que utilizou suas habilidades de persuasão e fingiu ser um médico para controlar a multidão que estava se formando em frente ao Hotel. Mas, mesmo contendo os problemas, ele acabou sendo expulso do local.
Confira abaixo as imagens oficiais (em alta definição) do segundo episódio da terceira temporada de Fear the Walking Dead. Além de dedicar mais de 25 fotos promocionais aos momentos cruciais de "The New Frontier", ainda há uma pequena amostra daquilo que ocorreu nos bastidores das gravações.
S03E02 – "The New Frontier" foi ao ar no último domingo, dia 4 de junho de 2017, no AMC Brasil, e contou com o roteiro de Mark Richard e a direção de Stefan Schwartz.
FOTOS PROMOCIONAIS:
FOTOS DOS BASTIDORES:
Fear the Walking Dead vai ao ar aos domingos, às 22h, no canal AMC.
Fiquem ligados no FEAR the Walking Dead Br e em nossas redes sociais @FearWalkingDead (twitter) e FEAR the Walking Dead Brasil (facebook) para ficar por dentro de tudo que rola no universo de Fear the Walking Dead.
–
Crédito das fotos: Michael Desmond/AMC