[FOTOS] Fear the Walking Dead 3ª Temporada: Promocionais do episódio 3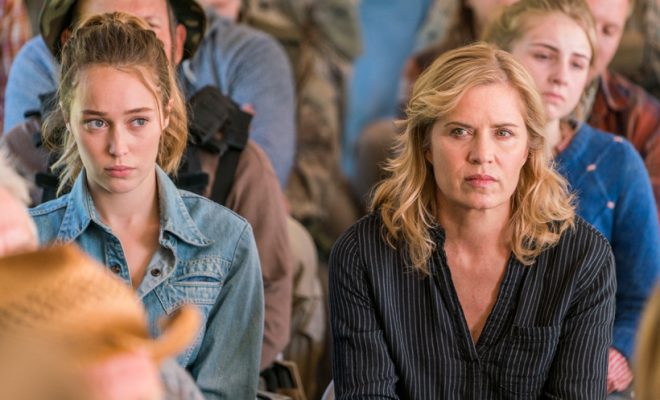 Atenção! Este conteúdo contém SPOILERS do terceiro episódio, S03E03 – "Teotwawki", da terceira temporada de Fear the Walking Dead. Caso ainda não tenha assistido, não continue. Você foi avisado!
Madison descobre um pouco sobre o passado dos Otto, Alicia se enturma com os adolescentes do rancho e Nick e Troy, aparentemente, se entendem. Os moradores do Rancho Mandíbula Quebrada não estão muito felizes com a presença dos Clark no local, mas o ambiente segue pacífico. Por quanto tempo isso vai durar é que não sabemos, uma vez que Luciana não quer ficar e se sente ameaçada/em perigo após os conflitos com Troy. Enquanto isso, do outro lado da fronteira, Strand enfrenta alguns problemas após descobrir que seu velho "amigo" Dante não se importa muito com sua vida. Após quase ser jogado da represa, Victor é preso e recebe a visita do seu "anjo da guarda" Daniel Salazar, que ressurgiu das cinzas.
Confira abaixo as imagens oficiais (em alta definição) do terceiro episódio da terceira temporada de Fear the Walking Dead.
S03E03 – "Teotwawki" foi ao ar no último domingo, dia 11 de junho de 2017, no AMC Brasil, e contou com o roteiro de Ryan Scott e a direção de Deborah Chow.
FOTOS PROMOCIONAIS:
Fear the Walking Dead vai ao ar aos domingos, às 22h, no canal AMC.
Fiquem ligados no FEAR the Walking Dead Br e em nossas redes sociais @FearWalkingDead (twitter) e FEAR the Walking Dead Brasil (facebook) para ficar por dentro de tudo que rola no universo de Fear the Walking Dead.
–
Crédito das fotos: Richard Foreman Jr e Michael Desmond / AMC