[FOTOS] Fear the Walking Dead 3ª Temporada: Promocionais e bastidores do episódio 4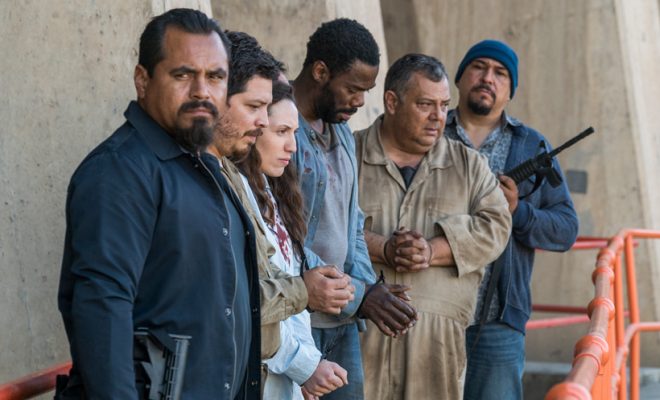 Atenção! Este conteúdo contém SPOILERS do quarto episódio, S03E04 – "100", da terceira temporada de Fear the Walking Dead. Caso ainda não tenha assistido, não continue. Você foi avisado!
Daniel está de volta! Depois de passar por alguns problemas após ter escapado do fogo, que ele mesmo colocou, no complexo Abigail, Salazar encontra com um morador de rua, Efrain, que o ajuda a se recuperar para poder então continuar a pagar pelos seus pecados. Ele só não esperava ter que voltar a entrar em "modo soldado" tão rápido. Daniel encontra novos problemas ao conhecer o dono da barragem, Dante, e descobrir que Strand estava sendo mantido refém para então ser jogado do alto da represa. Ao final, Daniel entra no modo "anjo justiceiro" e consegue salvar a todos das garras de Dante, colocando um fim no vilão e em seus capangas.
Confira abaixo as imagens oficiais (em alta definição) do quarto episódio da terceira temporada de Fear the Walking Dead. Além de dedicar mais de 25 fotos promocionais aos momentos cruciais de "100", ainda há uma pequena amostra daquilo que ocorreu nos bastidores das gravações.
S03E04 – "100" foi ao ar no último domingo, dia 18 de junho de 2017, no AMC Brasil, e contou com o roteiro de Alan Page e a direção de Alex Garcia Lopez.
FOTOS PROMOCIONAIS:
FOTOS DOS BASTIDORES:
Fear the Walking Dead vai ao ar aos domingos, às 22h, no canal AMC.
Fiquem ligados no FEAR the Walking Dead Br e em nossas redes sociais @FearWalkingDead (twitter) e FEAR the Walking Dead Brasil (facebook) para ficar por dentro de tudo que rola no universo de Fear the Walking Dead.
–
Crédito das fotos: Richard Foreman/AMC