[FOTOS] Fear the Walking Dead 3ª Temporada: Promocionais do episódio 9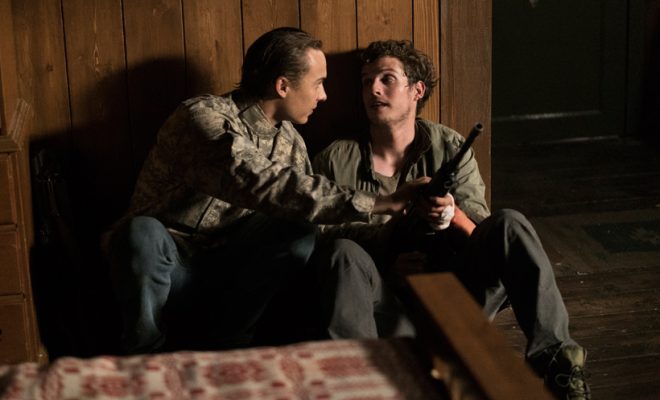 Atenção! Este conteúdo contém SPOILERS do nono episódio, S03E09 – "Minotaur", da terceira temporada de Fear the Walking Dead. Caso ainda não tenha assistido, não continue. Você foi avisado!
Após a morte de Jeremiah, ambas as comunidades passam a trabalhar juntas. Apesar da desaprovação de Troy e de alguns outros moradores, Jake diz em uma reunião que o único propósito de todos é sobreviver e Walker concorda. Longe dali, Lola assume a direção da represa depois da morte de Dante. Recuperado, Nick conversa com Ofelia sobre suas atitudes e ela diz não estar arrependida. Um rapaz chamado Terrance, amigo de Gretchen, acredita que ela e sua família foi morta pelos homens de Walker e tenta assassinar um deles, mas é impedido, causando uma briga. Após o ocorrido, Walker pede a chave do arsenal para Jake e passa a comandar o controle de armas no rancho. Troy continua demonstrando atos rebeldes em relação a coexistir com Walker e se nega a entregar suas armas. Como resultado, Walker e seus homens atacam a casa de Troy enquanto ele conversava com Nick, que tentava fazê-lo ceder. Na represa, a situação não se mostra diferente e os moradores começam a brigar por água. Nick revela para Troy que Jeremiah não se sacrificou como ele imaginava, e sim que ele o matou. Troy acaba cedendo e é banido da comunidade.
Confira abaixo as imagens oficiais (em alta definição) do nono episódio da terceira temporada de Fear the Walking Dead.
S03E09 – "Minotaur" foi ao ar no último domingo, dia 10 de setembro de 2017, no AMC Brasil, e contou com o roteiro de Dave Erickson e Mike Zunic e a direção de Stefan Schwartz.
FOTOS PROMOCIONAIS:
Fiquem ligados no FEAR the Walking Dead Br e em nossas redes sociais @FearWalkingDead (twitter) e FEAR the Walking Dead Brasil (facebook) para ficar por dentro de tudo que rola no universo de Fear the Walking Dead.
–
Crédito das fotos: Richard Foreman Jr / AMC