[FOTOS] Fear the Walking Dead 3ª Temporada: Promocionais do episódio 10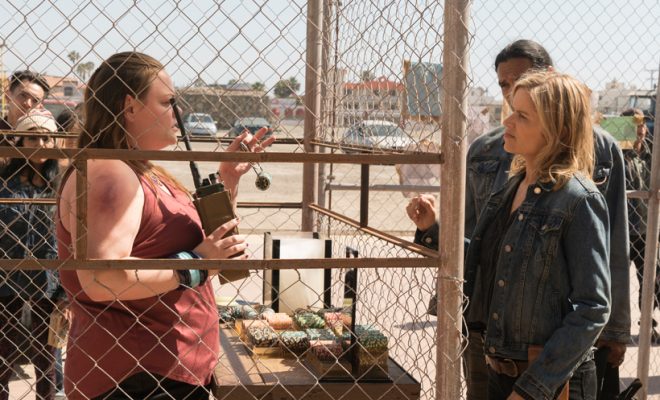 Atenção! Este conteúdo contém SPOILERS do décimo episódio, S03E10 – "The Diviner", da terceira temporada de Fear the Walking Dead. Caso ainda não tenha assistido, não continue. Você foi avisado!
Nick é posto em uma cabine fechada após os acontecimentos da noite anterior e começa a ter alucinações com Troy. Com medo de faltar água e temendo a reação dos moradores, Madison e Walker decidem visitar um lugar conhecido por ele. Eles chegam em uma antiga arena, mas para entrar, precisam dar algo em troca e Madison entrega seu comunicador com o que falava com Alicia. Após ser solto, Nick recebe apoio de alguns membros do rancho dispostos e colocar para fora o grupo de Walker. Alicia descobre que Nick está envolvido e teme que ele seja descoberto. Na arena, Madison reencontra Strand e o salva de uma briga. Ele revela a existência de uma represa não muito longe dali, mas que não poderá levá-los, pois está preso no lugar. De volta ao rancho, os moradores descobrem que só lhes restam mais seis semanas de água e que devem começar a racionar. Todos se exaltam e acaba acontecendo uma briga conjunta. Strand é levado para condenação e Walker diz para Madison que fechou acordo com uma mulher chamada Maria Lu sobre conseguir água. Madison novamente salva a vida de Strand, que foi colocado do lado de fora da arena para enfrentar alguns infectados, dizendo que sua divida foi paga e fala para Walker que Strand tem o que eles procuram. Nick, Alicia e alguns outros moradores começam uma escavação em busca de água.
Confira abaixo as imagens oficiais (em alta definição) do décimo episódio da terceira temporada de Fear the Walking Dead.
S03E10 – "The Diviner" foi ao ar no último domingo, dia 10 de setembro de 2017, no AMC Brasil, e contou com o roteiro de Ryan Scott e a direção de Paco Cabezas.
FOTOS PROMOCIONAIS:
Fiquem ligados no FEAR the Walking Dead Br e em nossas redes sociais @FearWalkingDead (twitter) e FEAR the Walking Dead Brasil (facebook) para ficar por dentro de tudo que rola no universo de Fear the Walking Dead.
–
Crédito das fotos: Richard Foreman Jr / AMC