[FOTOS] Fear the Walking Dead 3ª Temporada: Promocionais do episódio 11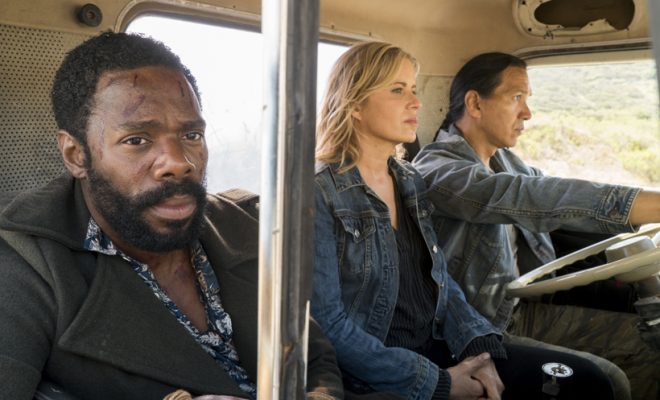 Atenção! Este conteúdo contém SPOILERS do décimo primeiro episódio, S03E11 – "La Serpiente", da terceira temporada de Fear the Walking Dead. Caso ainda não tenha assistido, não continue. Você foi avisado!
Strand mostra o caminho da represa para Madison e Walker. Para chegar lá, eles passam pelos esgotos, enfrentando problemas com alguns infectados presentes. Ao saírem, encontram Daniel, e Madison revela que Ofelia está viva e morando no rancho. Daniel os leva até Lola para iniciar a negociação. Madison propõe armas e gado em troca de água, mas Lola não aceita. Daniel explica que a represa foi atacada e que sem ele ali, o lugar seria dominado, portanto prefere ficar ao invés de se juntar à Ofelia. Lola conversa a sós com Madison e diz que se ela quiser, poderá morar e trabalhar na represa com seus filhos. Daniel agradece Walker por ter salvo a vida de Ofelia. Pela manhã, Walker vai embora sem esperanças de fechar um acordo, enquanto Madison e Strand permanecem na represa. Daniel diz para Madison que tentou convencer Lola, mas sem sucesso. Um caminhão da represa explode nos portões, atraindo infectados e um grupo de pessoas em busca de água. Sem saber como lidar com os acontecimentos e enxergando que a defesa da represa está em baixa, Lola aceita fechar acordo com Madison. Na estrada de volta ao rancho, eles encontram Walker e Strand revela que causou o acidente com a caminhão, pois achava que era o único jeito de obter sucesso com a negociação.
Confira abaixo as imagens oficiais (em alta definição) do décimo primeiro episódio da terceira temporada de Fear the Walking Dead.
S03E11 – "La Serpiente" foi ao ar no último domingo, dia 17 de setembro de 2017, no AMC Brasil, e contou com o roteiro de Mark Richard e Lauren Signorino e a direção de Josef Wladyka.
FOTOS PROMOCIONAIS:
Fiquem ligados no FEAR the Walking Dead Br e em nossas redes sociais @FearWalkingDead (twitter) e FEAR the Walking Dead Brasil (facebook) para ficar por dentro de tudo que rola no universo de Fear the Walking Dead.
–
Crédito das fotos: Richard Foreman Jr / AMC