[FOTOS] Fear the Walking Dead 4ª Temporada: Promocionais do episódio 9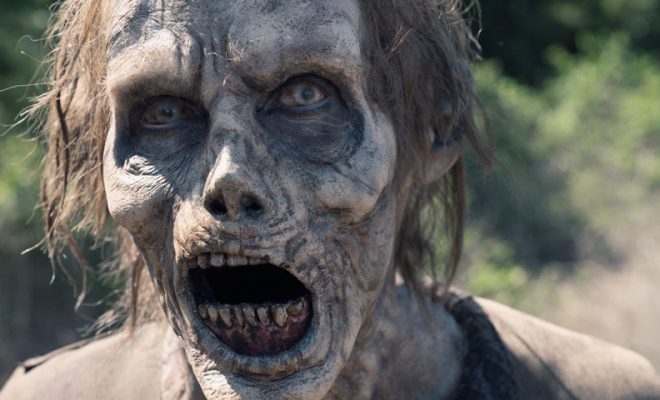 Atenção! Este conteúdo contém SPOILERS do nono episódio, S04E09 – "People Like Us", da quarta temporada de Fear the Walking Dead. Caso ainda não tenha assistido, não continue. Você foi avisado!
O grupo está separado. Morgan tem a ideia de retornar para Virginia, onde fica a comunidade de Alexandria e pede para Al levá-lo. Para a viagem, Morgan tenta recrutar John, que nega, e diz que pretende voltar para sua cabana com June e Charlie. Ao visitar Strand e Luciana abrigados em uma casa, que também negam seguir viagem, Morgan descobre que Alicia não está mais com eles, pois se mudou para uma casa mais a frente e que há muito tempo eles não a vêem. Charlie quase é pega por um infectado saído das águas de um rio, mas é salva por Al, que decide subir o rio com June para ver de onde os infectados estão surgindo e o quão ameaçador isso pode ser. Morgan encontra Alicia e descobre que a garota está tentando descobrir quem colocou mensagens de socorro em alguns infectados. Juntos, eles chegam numa serraria e Alicia se decepciona ao saber que o homem que pediu ajuda já está morto e se compara a sua mãe, pois caso Madison estivesse viva, o teria salvo a tempo. Morgan nega que Alicia seja diferente e diz que o grupo precisa dela. Após uma conversa com John, Charlie foge e vai até a casa de Strand e Luciana onde deixa um livro infantil conhecido. John pede ajuda de Strand para procurar Charlie. Voltando para o acampamento, Al e June são surpreendidas por uma tempestade carregando vários infectados.
Confira abaixo as imagens oficiais (em alta definição) do nono episódio da quarta temporada de Fear the Walking Dead.
S04E09 – "People Like Us" foi ao ar segunda-feira, dia 13 de agosto de 2018, no AMC Brasil, e contou com o roteiro de Anna Fishko e a direção de Magnus Martens.
FOTOS PROMOCIONAIS:
Fear the Walking Dead vai ao ar as segundas-feiras, às 22h30, no AMC Brasil. Consulte sua operadora de TV para mais informações.
Fiquem ligados no FEAR the Walking Dead Br e em nossas redes sociais @FearWalkingDead (twitter) e FEAR the Walking Dead Brasil (facebook) para ficar por dentro de tudo que rola no universo de Fear the Walking Dead.
–
Crédito das fotos: Ryan Green / AMC
Quer receber todas as notícias de The Walking Dead em seu WhatsApp? Entre em um dos nossos grupos oficiais:

Grupo #1

|

Grupo #2

|

Grupo #3

|

Grupo #4

|

Grupo #5