[FOTOS] Fear the Walking Dead 3ª Temporada: Promocionais e bastidores do episódio 6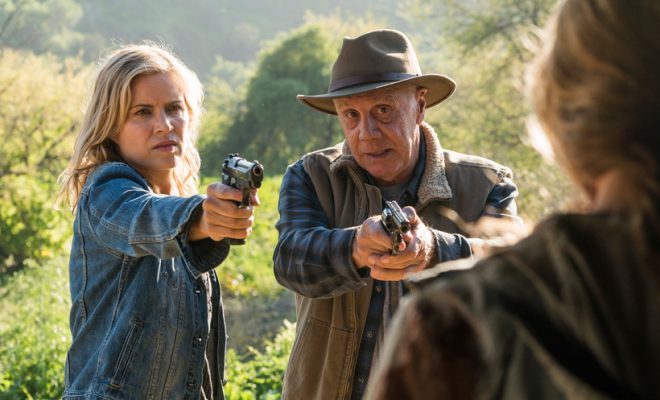 Atenção! Este conteúdo contém SPOILERS do sexto episódio, S03E06 – "Red Dirt", da terceira temporada de Fear the Walking Dead. Caso ainda não tenha assistido, não continue. Você foi avisado!
Vimos que a vida no Rancho Mandíbula Quebrada piorou. Antes parecia estar melhorando. Jeremiah Otto é agora o único fundador vivo, mas passa mais tempo bebendo do que liderando. E parece que Troy caçou e matou os Trimbols só por saírem do rancho. Enquanto isso, Jake parte para negociar com Walker, e parece que Alicia foi atrás dele. Com o rancho perdendo tantos membros, quanto tempo pode resistir a ameaça de Walker? Madison tomou a decisão certa ao culpar o pessoal de Walker pela morte dos Trimbols, e fez um discurso de "você tem que nos salvar" para Troy.
Confira abaixo as imagens oficiais (em alta definição) do sexto episódio da terceira temporada de Fear the Walking Dead. Além de dedicar mais de 25 fotos promocionais aos momentos cruciais de "Red Dirt", ainda há uma pequena amostra daquilo que ocorreu nos bastidores das gravações.
S03E06 – "Red Dirt" foi ao ar no último domingo, dia 2 de julho de 2017, no AMC Brasil, e contou com o roteiro de Wes Brown e a direção de Courtney Hunt .
FOTOS PROMOCIONAIS:
FOTOS DOS BASTIDORES:
Fear the Walking Dead vai ao ar aos domingos, às 22h, no canal AMC.
Fiquem ligados no FEAR the Walking Dead Br e em nossas redes sociais @FearWalkingDead (twitter) e FEAR the Walking Dead Brasil (facebook) para ficar por dentro de tudo que rola no universo de Fear the Walking Dead.
–
Crédito das fotos: Richard Foreman/AMC