[FOTOS] Fear the Walking Dead 3ª Temporada: Promocionais do episódio 12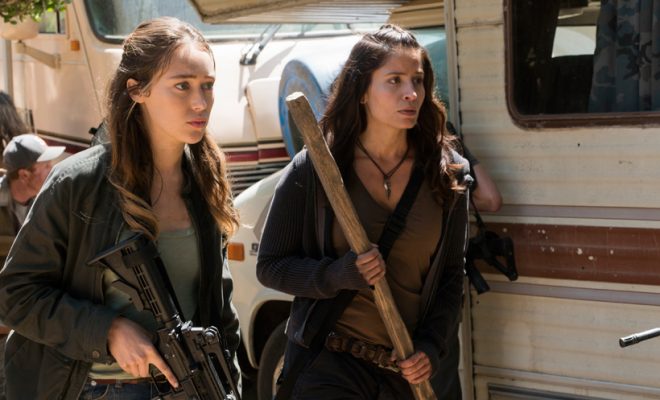 Atenção! Este conteúdo contém SPOILERS do décimo segundo episódio, S03E12 – "Brother's Keeper", da terceira temporada de Fear the Walking Dead. Caso ainda não tenha assistido, não continue. Você foi avisado!
Os moradores do rancho, em especial Jake, continuam preocupados com a falta de água, onde veem seu plantio secando e o gado morrendo. Durante a noite, Nick recebe uma visita de Troy e acredita ser uma alucinação. Troy diz para Nick que o rancho corre perigo e todos devem ir embora imediatamente. Pela manhã, Nick fala sobre o aviso de Troy para Jake e os dois resolvem ir atrás dele. Na estrada, eles avistam uma grande quantidade de poeira no ar e descobrem uma horda de infectados indo em direção do rancho, graças a Troy que os atrai com um sinalizador. Jake ameaça matar Troy por ele estar descontrolado, mas é derrubado por Nick. Um infectado ruma em direção a Jake e acaba mordendo seu braço. Para que ele não morra, Nick e Troy cortam seu braço e pegam a caminhonete de volta para o rancho. Alicia, Ofelia e os demais moradores, colocam trailers em volta do rancho para impedir a entrada dos infectados, mas sem resultado e eles conseguem entrar. Jake não suporta o ferimento e morre, enquanto Nick observa os infectados invadindo o rancho e culpa Troy, que mata Jake ao vê-lo reanimado. Sem saber o que fazer, os moradores do rancho se encontram trancados no depósito da comunidade.
Confira abaixo as imagens oficiais (em alta definição) do décimo segundo episódio da terceira temporada de Fear the Walking Dead.
S03E12 – "Brother's Keeper" foi ao ar no último domingo, dia 24 de setembro de 2017, no AMC Brasil, e contou com o roteiro de Wes Brown e a direção de Alrick Riley.
FOTOS PROMOCIONAIS:
Fiquem ligados no FEAR the Walking Dead Br e em nossas redes sociais @FearWalkingDead (twitter) e FEAR the Walking Dead Brasil (facebook) para ficar por dentro de tudo que rola no universo de Fear the Walking Dead.
–
Crédito das fotos: Richard Foreman Jr / AMC